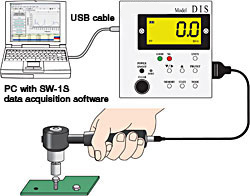 The DIS-RL Digital Torque Tester / Screwdriver is an ergonomically designed easy-to-use inspection device or production tool. It measures application or removal torque up to 90 lb-in. Torque controlled screwdrivers can also be evaluated by comparative tests on a given fastener. Both breakaway and loosen tests can be performed.
This tester has an accuracy of ±0.5%, ± 1 LSD. It offers a programmable setpoint for uniform tightening or Go/No Go testing and also provides peak and continuous data for SPC (statistical process control) via the USB port.
DIS-RL substantially reduces scrap and rework costs by eliminating over and under-tightening. It is ideal for use in a wide variety of applications including the manufacture of electronic, appliance and aerospace assemblies. Sold in kit form including display unit, screwdriver with cable, AC adapter/charger and carrying case.
*The DIS-RL is Manually Operated, Not Motorized
Includes NIST-Traceable Calibration Certificate
ISO/IEC 17025 Long-form Certificate & Test Data is optionally available
2 Year Warranty
Peak, Real Time and Peak Down measuring mode (selectable)
800 peak data memory for recall or for SPC download
Programmable High and Low setpoints with audible beep for uniform torque tightening or GO/NO GO testing
Both clockwise and counterclockwise operation
USB output for SPC capability
Runs on internal NiCad batteries (8 hour use)
Statistics: number of data, Max, Min, Avg
CW, CCW ratchet and fixed operation
Model
Capacity
DIS-RL05
0.020 - 4.500 lbf-in
0.020 - 5.000 kg-cm
0.20 - 50.00 N-cm
DIS-RL2
0.10 - 18.00 lbf-in
0.10 - 20.00 kg-cm
1.0 - 200.0 N-cm
DIS-RL10
1.0 - 90.00 lbf-in
1.0 - 100.0 kg-cm
10 - 1000 N-cm
Accuracy: ±0.5% F.S. ±1 LSD ( 32° to 100°F)
Item
Description
Price

Torque Screwdriver, 4.5 lb-in / 5 kg-cm / 50 N-cm

$1,575.00

Torque Screwdriver, 18 in-lb / 20 kg-cm / 200 N-cm

$1,120.00

Torque Screwdriver, 90 in-lb / 100 kg-cm / 1000 N-cm

$1,120.00

Accessories

ISO-17025

ISO-17025 Accredited Calibration with Certificate

$160.00

Data Acquisition Software for Torque Testers with RS-232 or USB ports

$199.00

SS-208

USB output cable (formerly CB-208)

$25.00

TBK33

33 Piece 1/4" Hex Bit Set with drive extension, 6 Torx, 5 Hex bits, 8 Phillips, 8 Pozidrive, 5 slotted bits

$15.00
1 Week Lead Time (Estimated)
2-3 Week Lead Time (Estimated)
Lead Time Varies, Please contact us for availability.