Measuring Range: 15 - 60%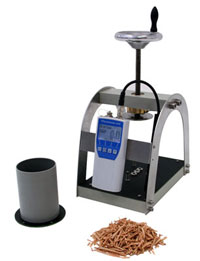 The new BLH Moisture Meter is specifically designed for the accurate measurement of Moisture Content of Sawdust. The BLH provides a measuring resolution of 0.1% and is supplied with five (5) built-in calibrations for the following species of wood types: Beech, Birch, Spruce, Pine, Poplar, and Oak.
The BLH is supplied with built-in memory for 10,000 values and features automatic temperature compensation for the highest possible accuracy. It also includes USB Output and is supplied with a data transfer cable and free PC-Software.
A hand-wheel system is provided to compress the 400 ml sample into the measuring container to get highly repeatable results which are shown on the over-sized LED display in seconds. The BLH is battery powered using four (4) AA-Batteries providing maximum convenience and portability for use everywhere. It is constructed for trouble-free use even in the toughest field applications.
Measuring Range: 15 - 60% with resolution of 0.1%
Supplied with factory calibrations for Beech, Birch, Oak, Spruce, Pine and Poplar wood sawdust
Includes Automatic Temp Compensation for highest possible measuring accuracy
Built-in datalogger for 10,000 readings
Supplied with USB Output, data transfer cable and free PC-Software
Uses 400 mL sample size for highest accuracy
Measuring Range
15 - 60%
Resolution
0.1%
Accuracy
1.5%
Calibrations
Beech, Birch, Spruce, Pine, Poplar and Oak
Temp Compensation
Automatic in °C or °F using built-in temperature probe
Measurement Technique
Capacitance, Click for more info
Menu languages
English, German, French, Italian, Spanish and Russian
Display
Graphic LCD display with backlight (128 x 64 pixel)
Datalogger
10,000 moisture measurements plus date, batch & temperature
Data Interface
USB. Supplied with data transfer cable & PC-Software
Operating Temp
32°F to 104 °F (0 °C to 40 °C)
Storage Temp
-4 °F to 140 °F (-20 °C to 60 °C)
Power
4 x 1.5 Volt AA Alkaline batteries
Battery Life
900 measurements
(with auto-off after 6 minutes of non-use)
Dimensions
275 x 180 x 290 mm (11" x 7" x 12")
Weight
6 Lbs (2.7 Kg)
MC% Method
Wet Basis (http://tinyurl.com/qayqvqe)
Thank You
Thank you for your quote request, we will contact you within 1-2 business days.
There was an error submiting the form. Please try again.