16 Ranges Avail
- Up to 10 kN / 1000 Kgf / 2200 lbf
Cable Diameters
- Up tp 30 mm (1.25")
The 136-3 hand-held tension meter is designed for use on cables, wire ropes and similar materials up to 30mm (1.25") diameter.
It is designed to minimize the effects of material rigidity and features a unique "tri-tens" system where the material can be threaded through the 3 rollers in 3 different paths.
Each threading pattern provides a different multiplying factor. For instance, assuming the Threading Pattern "D" below, (where all 3 rollers are on the same side), versus Threading Pattern "E", where one roller is on one side and 2 rollers are on the other side. Pattern "E" provides a multiplier of approximately 5x compared to threading Pattern "D".
This permits the user to use the most appropriate threading pattern based on the tensions required for a specific material. In other words, the same hand-held sensor can be considered to have 3 different capacities, (depending upon threading pattern "D", "E" or "F). For example, when using a 400 mm wide outer roller bracket.
• 100 Lb Capacity when using "D"

• 25 Lb Capacity when using "E"

• 15 Lb Capacity when using "F"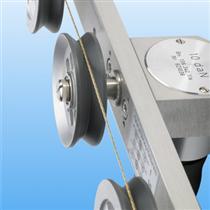 S6 Model for Tire Cord
For Tire Cord and similar applications, we offer our model S6 which features oversized 42 mm diameter V-Grooved rollers with ceramic plasma coating to withstand the high speeds, forces and abrasion normally found when measuring Tire Cord Tension.

Download S6 Dimensions here
One sensor for three measuring ranges Tritens®
Easy material threading
Unaffected by changes in material diameter and rigidity
Minimal material deflection
Tension ranges up to 10 kN / 1000 Kgf / 2200 lbf
| | |
| --- | --- |
| Accuracy | ± 2% Full Scale, typical (depends on material and calibration) |
| Outer Roller Spacing (c:c) | 350, 400 or 500 mm |
| Material Deflection | 1.5 degrees |
| Guide Rollers | 30 mm Dia., V-grooved or Dual-Radius U-Grooved |
| Roller Material | Aluminum, Steel, other depending upon application |
| Overload Protection | 200% + |
| Calibration Certificate | Optional |
Thank You
Thank you for your quote request, we will contact you within 1-2 business days.
There was an error submiting the form. Please try again.