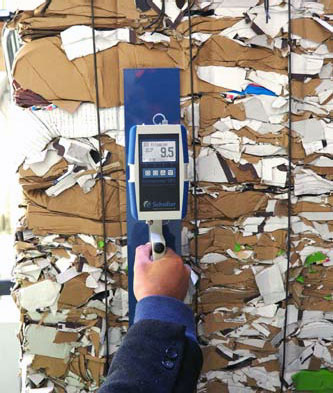 The RP6 moisture meter is designed fast, non-destructive measurement of moisture content in recycled paper and for the detection of moisture spots in recycling paper bales.
Measurement of compressed bales, roles and pulp possible. Measuring range of 1 to 50% water content, measuring depth 500mm. Furthermore it is possible to connect external sensors to the humimeter RP6.
Use the optional humidity and temperature sensor to measure environmental parameters and many other important paper key figures quickly and efficiently.
To measure loose paper or cardboard, use the optional 0.3 meter long insertion probe.
Measuring range: 1 to 50% water content (depending on the material)
Resolution: 0.5% water content
Eight (8) built-in factory calibrations for most common recycled paper types
Hold function, automatic dataloging for up to 10,000 values with measuring point report
Includes USB data outut, supplied with cable and Free Software
Quickly and highly accurate measurement using a non-destructive method
Automatic temperature compensation
Measurement within seconds without prior treatment of samples
Interface for the connection of optional external sensors
Menu languages: English, German, Italian, French, Spanish, Russian, many others on request
Protection class: IP64 - protected against dust and liquid spray
Optional: portable thermal printer, humidity and temperature sensor, test block
Supplied with Rechargeable batteries (Li-Ion 1950mAh) and USB Charging Cable
Made in Austria to the highest standards, CE-certified and backed by 2-Year Warranty
Turn on your RP6 moisture meter by pushing the black button on the handle of the device. Choose your calibration (e.g. 350 recycling paper) and press the measuring plate against the paper bale. The display immediately shows the water content and temperature. The measuring values can be stored in the humimeter RP6 memory, additional information like supplier's data and notes can be added. The stored values can be sent to a PC if required. Measurements can be printed immediatley via the optionally available portable printer. For measurement of other relevant process parameters, a humidity and temperature sensor can be connected.
| | |
| --- | --- |
| Measuring Range | 0 to 50% water content |
| Resolution | 0.5% water content |
| Data Logger | Up to 10,000 measurements & report |
| Data Output | USB (supplied with data transfer cable and software on thumbdrive) |
| Measuring depth | max. 500 mm |
| LCD Display | 128 x 64 matrix display, with backlight |
| Battery Type | Li-Ion 1950mAh Re-Chargeable Battery (USB Cable included) |
| Battery Life | 40 hours (continuous use) |
| Temperature Compensation | Automatic (Displayed in °C or °F as preferred) |
| Factory Calibrations | Eight (8) built-in factory calibrations for most common recycled paper types |
| Current Consumption | 40mA (with backlightlight) |
| Operating Temperature | 0 to +50°C (32 to 122°F) |
| Storage Temperature | -20 to +60°C (-4 to 140°F) |
| Dimensions | 620 x 100 x 147 mm (24.4" x 4" x 5.8") |
| Weight | 1 kg, approx. (with batteries) / 2.2 Lbs |
| Carrying Case Dimensions | 590 x 394 x 165 mm (23" x 15.5" x 6.5") |
| Shipping Weight | 4.5 kg / 10 lbs |
| Warranty | 2-Years |
| Menu Languages | English, German, Italian, French, Spanish, Russian, many other on request |
Item
Description
Price

Recycling Paper Moisture Meter with built-in datalogger & USB output

$5,795.00

Accessories

RP6-TB

Test Block for use with RP6 to confirm calibration, supplied in wood carrying case

$395.00

12391

Replacement Li-Ion rechargeable battery for RP5/RP6 3.7V 1950 mAh

$75.00

13837

Insertion probe with stainless steel probe of 0.3 meter length for recycling paper and corrugated board

$525.00

HUMI-PRINTER

Portable Battery Powered Thermo Printer

$450.00

LF-TB-120

LF-TB-120 Precision Humidity & Temperature Plug-in Sensor (Art# 12004)

$795.00

HUMI-CERT

Factory calibration certificate protocol for moisture meters

$195.00
1 Week Lead Time (Estimated)
2-3 Week Lead Time (Estimated)
Lead Time Varies, Please contact us for availability.