The WT-100 is an easy-to-use warp tension meter designed to provide quick comparative measurements. A wide measuring foot and small "scooping" frame allow for fast material acquisition. Its 0-100 unit scale allow you to compare tension on different areas of the warp.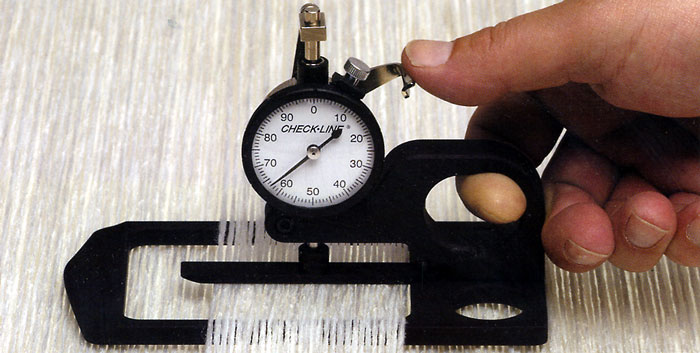 Dependable, lightweight, small, rugged and easy-to-use.
A large, 2-3/4" wide measuring foot, provides even, perpendicular pressure for highly repeatable readings.
A thumb-actuated mechanism lifts the pressure foot for easy insertion into the warp and allows a scooping action by the bottom frame to select the number of ends to be measured.
Calibration
0-100 empirical units
Resolution
1 unit
Dial Face Diameter
1-1/2" (38mm)
Foot Pressure
300g ± 10g at 1 revolution of pointer
Dimensions
Frame: 5-7/8" x 3" (150 x 176mm)
Height 3-5/8" (92mm)
Frame Material
Aluminum Alloy