This G1106 self-centering vise can be used in a wide range of testing applications. Wide opening range (2"/50mm) accommodates large and unique samples. Rugged design permits testing up to 500 lbF (2,500 N). Smooth removable jaws can be field-modified to improve sample gripping characteristics as required for pull testing applications.
Use this grip with a choice of test stand and force gauge to create a complete testing system.
Replaces Model G1070.
Maximum tension force: 500 lbF (2,500 N)
Removable jaws
Self-centering design
Ergonomic lever, smooth operation
Weight: 3.00 lb [1.36 kg]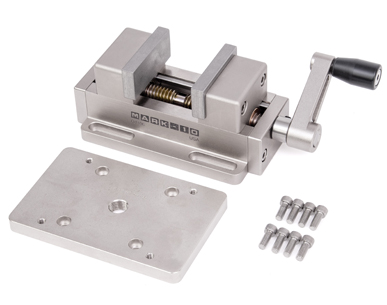 The G1106 vise is shipped as shown at left, and includes the following accessories:
(1) Vise assembly
(1) Test stand adapter plate
(8) #10-32 mounting screws