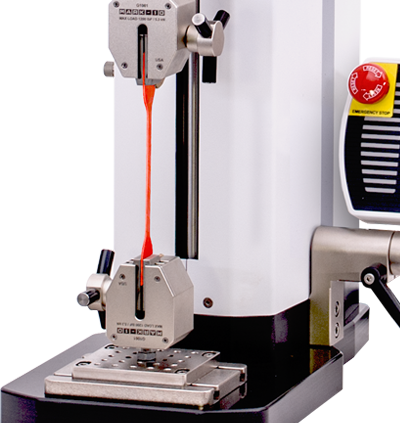 4 Models Available
G1061-1
Width: .375" (9.5mm) Capacity: 200 lbs
G1061
Width: .75" (19mm) Capacity: 1200 lbs
G1061-2
Width: 1" (25.4mm) Capacity: 2000 lbs
G1061-3
Width: 1" (25.4mm) Capacity: 50 lbs
These heavy duty self-tightening grips with a capacity range up to 2000 lbf (1 kN to 10 kN) are ideal for tensile testing of a wide range of materials. The serrated steel jaws ride on rollers instead of sliding along the surface of the housing, as with conventional wedge grips. This unique design prevents jamming and improves gripping characteristics.

G1061-3 features rubber coated jaws for gripping film and paper.
The spring loaded jaws open with a highly ergonomic rack and pinion lever mechanism. The smooth and easy operation of the lever greatly reduces operator hand fatigue.
Use these grips with a test stand and force gauge to create a complete testing system.

3 capacities / 4 models available
Unique jam-free design
Fully enclosed
Hardened, serrated steel jaw faces, or rubber jaw faces for film and paper tensile testing applications
Thru slot for samples of unlimited width
Weight: G1061-1: 0.5 lb [0.23 kg]
G1061: 0.8 lb [0.36 kg]
G1061-2: 0.9 lb [0.41 kg]
Jaw material / hardness: 416 SS / 43 RC
(G1061-3, Neoprene Rubber, Harness of Shore A 70)
Item
Description
Price

Wedge Grip with .375" Wide Jaws, 200 lb cap.

$489.25

Wedge Grip with .75" Wide Jaws, 1200 lb cap.

$546.25

Wedge Grip with 1" Wide Jaws, 2000 lb cap.

$598.50

Wedge Grip with 1" Wide Rubber Coated Jaws, 50 lb cap.

$598.50

Accessories

Swivel adapter, 5/16-18, 500 lb / 250 kg capacity

$70.00
1 Week Lead Time (Estimated)
2-3 Week Lead Time (Estimated)
Lead Time Varies, Please contact us for availability.