The new CHECKLINE model 136-2-AMG hand-held web tension sensor measures tension on films, foils and non-woven webs and similar materials of any width. Tension can be measured on any section of the web for comparative and relative purposes, such as side-to-side, center-to-side or any area across the web width.
This is the only tension meter available for hand-held portable use for measurement on webs of this type. The sensor is typically supplied with the battery powered D-485 Digital Indicator which will show empirical values from 0-100 with a resolution of 1 unit, and provides auto-zero, peak-hold and averaging function.
Adjustable Measuring Geometry is a critical feature needed to configure the 3 Roller tension meter for optimum measuring results on a variety of web applications. A micrometer moves the center sensing roller up or down, adjusting the amount of resultant force. If the sensor roller is extended too far into the web it will disturb the web create force vectors that will cause inaccuracies in the tension reading.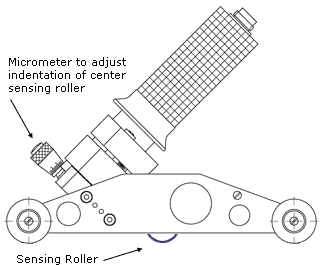 Allows the user to develop a "tension profile" which greatly assists in the evaluation of web uniformity
Helical grooves in rollers stabilize the sensor even at high web speeds
Water-resistant design
High-precision ball-bearing mounted rollers
Sensor will not resonate, even when used on webs running at high speeds
High overload capacity
136-2-PLR-AMG special version utilizes plastic construction wherever possible to minimize total weight of sensor for use on some thinner, low-tension fabrics, foils and films.
Can't be used to measure tension in paper webs
| | |
| --- | --- |
| Calibration Certificate | Optional |