The CHECKLINE DXR Tension meter is designed for measuring all of tapes and bands, such as textile ribbons, films, foils, fiber bunches, etc.
Dual-flanged rollers for narrow webs less then 4 inches (100 mm) width is optionally available.
Note: This model does not include a filament guide and material thickness compensator
NIST-Traceable Calibration Certification OPTIONAL
Single-flanged outer guide rollers with 50 mm or 100 mm width (dual-flanged rollers optional)
Roller shifting mechanism ensures easy acquisition of the running material
The analog display shows changing and fluctuating tensions fast and enables an optimal process adjustment
Warranty: 1-Year
Made in Germany
Model
Range
Measuring Head
Width mm
Roller Widths mm
DXR-2000
200-2000
125
50, 100
DXR-5000
400-5000
125
50, 100
DXRL-10K
2.5-10 Kg
125
50, 100
DXRL-20K
5-20 Kg
200
50, 100
DXRL-30K
5-30 Kg
200
50, 100
DXRL-50K
5-50 Kg
200
50, 100
Special calibration using customer supplied samples is recommended, if process material differs significantly from the Check-Line calibration material in diameter, rigidity or shape. For this purpose a material sample of about 5 m should be supplied.
DXR Dial Faces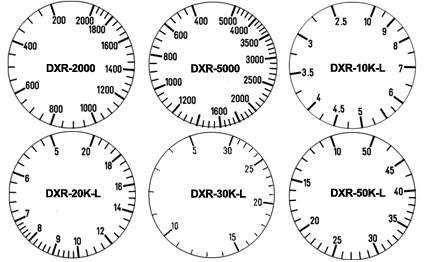 Roller Widh
Line Speed
...m/min
Roller Material
50 mm
1000
Hardcoated aluminium
100 mm
1000
Hardcoated aluminium
Lever (L)

A heavy duty, lever-operated mechanism moves the outer rollers for easy acquisition of the running filament. Recommended for models of 10 Kg or higher.
Memory Pointer (M)

Designed to retain the peak value as tensions fluctuate. Manually reset by using the knob located in the center of the dial.
Accuracy
± 1% of full scale or
± 1 graduation mark on scale
Diameter of Scale
41 mm
Maximum Speed
1000 m/min
Roller Material
Hardcoated aluminium
Housing Material
Die-cast aluminum
Temperature range
50 - 113°F (10 - 45°C)
Air humidity
85 % RH, max.
Housing dimensions(L x W x H)
7.5 x 3.3 x 1.8 in(188 x 85 x 45 mm)
Weight, net (gross)
2.2 lbs (4.5 lbs)