Available Scales:
A, AO, B, CF, D, E, DO, M, O, OO, OOO, OOO-S, (Asker, ISO, DIN & JIS Scales also available, inquire)
The RX-1600 Durometer features a full-sized dial face for readability to within 1/2 point. The RX-1600 offers the maximum accuracy available in a dial model gauge at a minimum cost.
Type M Durometers require test stand OS-3 per ASTM D2240.
Includes NIST-Traceable Calibration Certificate
Full 360 degree sweep
One year warranty
Conforms to ASTM D-2240
Minimum Sample Thickness-Type A = 6.00 mm (0.250")
Minimum Sample Thickness-Type M = 1.25 mm (0.050")
Optional Removable Stainless Steel Barrel for Medical and Food Applications
(Must be specified at time of order, not suitable for use with RX-1600-M or RX-1600-OOO-S)
Smallest diameter footer permitted by ASTM D2240 (1/2") permits measurement on parts with small surface area or close to the edge with maximim visibility

We offer a complete line of durometer test stands. The stand, when used in conjunction with a Durometer, eliminates operator error sometimes associated with hand-held durometer testing. Our stands feature a load weight for the proper testing pressure as noted in ASTM D2240, and a quick-lock column for easy adjustment.
Click here for more info on Durometer Test Stands.
The RX-1600 is supplied as a complete kit including the durometer & instruction manual in a foam-fitted metal carrying case.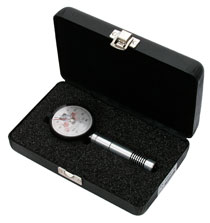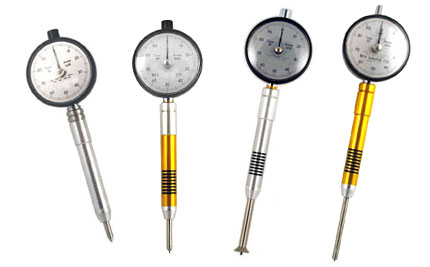 We offer custom slim probe versions of most durometer models and types. The slim probe attachment can be modified to fit your specific needs or applications.
Measuring Range
0 - 100 units
Accuracy*
±1 durometer unit (A,B,C,D,E,O,DO)
±2 durometer units (OO,OOO)
±4 durometer units (M)
Tolerance
± 0.5 at "100" and -0 +1 at "0"
Dimensions
2.25" x 6.125"H
Weight
6 oz.
* Note
per ASTM D 2240-05, Sect 9.3: It is accepted that durometer readings below 20 or above 90 are not considered reliable. It is suggested that readings in these ranges be omitted.
Mounting Thread
5/16-40
Indentor Tip
303 Stainless with Melonite case hardened