Available Scales:
A, B, C, D, DO, O, OO & Asker C
Conforms to:
ASTM D-2240, DIN 53505, ISO 868, JIS K 7215 & ISO 7619. Asker C model conforms to JIS K-7312.
The Check-Line DD-100 digital durometer tester is the genesis of years of experience offering high quality Durometers to discriminating users. Featuring an 18mm footer that offers high stability and conforms to all international standards, the DD-100 is the ideal durometer for a wide range of shore hardness measuring applications.
The DD-100 is supplied with a reference test block and NIST traceable calibration certificate in foam-fitted carrying case.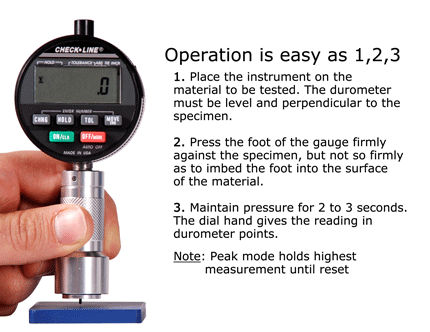 Includes NIST-Traceable Calibration Certificate
Supplied with reference test block
Can be used in any measurement orientation as gravity does not affect readings
High and low buttons for setting tolerance limits
18 mm diameter footer provides stable basis for testing and conforms to all International Standards
Solid state circuitry with LCD display
One year warranty
Holds Peak reading until reset
0.1 Unit Resolution
Supplied in custom fit carrying case with AC-Adapter
Conforms to ASTM D-2240, DIN 53505, ISO 868, JIS K 7215 & ISO 7619. Asker C model conforms to JIS K-7312.

We offer a complete line of durometer test stands. The stand, when used in conjunction with a Durometer, eliminates operator error sometimes associated with hand-held durometer testing. Our stands feature a load weight for the proper testing pressure as noted in ASTM D2240, and a quick-lock column for easy adjustment.
Click here for more info on Durometer Test Stands.

The DD-100 is supplied as a complete kit including the durometer, 115V AC Adapter (230V AC Adapter is OPTIONAL), test block, instruction manual and calibration certificate in a foam-fitted metal carrying case.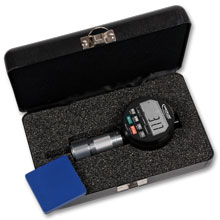 The DD-DB1 "Smart" USB cable connects the durometer to a computer. The output of the SmartCable Keyboard is a standard USB 2.0 keyboard signal. Connecting the SmartCable Keyboard with its built-in keyboard wedge to a computer will allow the SmartCable to be identified as a keyboard device that can send data to any Microsoft Windows application - no software wedge required. The SmartCable Keyboard will make the gauge readings appear as if they were typed in using a standard keyboard - eliminates data collection errors. If you want to collect data into a Microsoft Excel spreadsheet, simply select the cell where you want the data to appear.
Measuring Range
0 - 100 Units
Resolution
0.1 Units
Accuracy
±1 durometer unit (A,B,C,D,O,DO & Asker C)
±2 durometer units (OO)
Tolerance
± 0.5 at "100" and -0 +1 at "0"
LCD Size
8 mm
Dimensions
128 x 57 x 36 mm
Weight
235 grams (8.4 oz.)
Power Supply
(2) 3V CR-2450 Batteries
115V AC Adapter Included. 230V AC Adapter Optional
Warranty
1 year
* Note
per ASTM D 2240-05, Sect 9.3: It is accepted that durometer readings below 20 or above 90 are not considered reliable. It is suggested that readings in these ranges be omitted.
Conforms To
ASTM D-2240, DIN 53505, ISO 868, JIS K 7215 & ISO 7619. Asker C model conforms to JIS K-7312.
Mounting Thread
5/16-40
Conformance to International Standards

Model
ASTM D2240
DIN 53505
ISO 868
ISO 7619
DD-100-A
X
X
X
X
DD-100-B
X
DD-100-C
X
DD-100-D
X
X
X
X
DD-100-DO
X
DD-100-O
X
DD-100-OO
X