Available Scales:
A, B, C, D, DO, O, OO & Asker C
Conforms to:
ASTM D-2240, DIN 53505, ISO 868, JIS K 7215 & ISO 7619. Asker C model conforms to JIS K-7312.
The Check-Line DD-100 digital durometer tester is the genesis of years of experience offering high quality Durometers to discriminating users. Featuring an 18mm footer that offers high stability and conforms to all international standards, the DD-100 is the ideal durometer for a wide range of shore hardness measuring applications.
The DD-100 is supplied with a reference test block and NIST traceable calibration certificate in foam-fitted carrying case.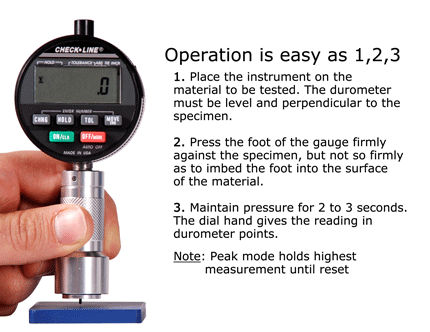 Includes NIST-Traceable Calibration Certificate
Supplied with reference test block
Can be used in any measurement orientation as gravity does not affect readings
High and low buttons for setting tolerance limits
18 mm diameter footer provides stable basis for testing and conforms to all International Standards
Solid state circuitry with LCD display
One year warranty
Holds Peak reading until reset
0.1 Unit Resolution
Supplied in custom fit carrying case with AC-Adapter
Conforms to ASTM D-2240, DIN 53505, ISO 868, JIS K 7215 & ISO 7619. Asker C model conforms to JIS K-7312.
CE Marked, RoHS Compliant
Need a hard copy printout of your measurement results?
Our P-190 Printer with the G03-0086 Cable will allow you to print each reading as it's shown on the display. The user simply depresses the thumb switch each time they want a value transferred to the printer. Simple yet effective!
The battery-powered P-190 Printer uses standard rolls of adding machine paper, unlike thermal printers the printout will not fade over time. It is supplied with a battery charger for operation on all power worldwide.
Order the following items as shown in the accessories section of the BUY NOW section at the bottom of this page.
P-190 Printer
G03-0086 Data Transfer Cable and Thumb Switch

We offer a complete line of durometer test stands. The stand, when used in conjunction with a Durometer, eliminates operator error sometimes associated with hand-held durometer testing. Our stands feature a load weight for the proper testing pressure as noted in ASTM D2240, and a quick-lock column for easy adjustment.
Click here for more info on Durometer Test Stands.
The DD-DB1 Smart USB cable connects the durometer to a computer. The output of the SmartCable Keyboard is a standard USB 2.0 keyboard signal. Connecting the SmartCable Keyboard with its built-in keyboard wedge to a computer will allow the SmartCable to be identified as a keyboard device that can send data to any Microsoft Windows application - no software wedge required. The SmartCable Keyboard will make the gauge readings appear as if they were typed in using a standard keyboard - eliminates data collection errors. If you want to collect data into a Microsoft Excel spreadsheet, simply select the cell where you want the data to appear.
Measuring Range
0 - 100 Units
Resolution
0.1 Units
Accuracy
±1 durometer unit (A,B,C,D,O,DO & Asker C)
±2 durometer units (OO)
Tolerance
± 0.5 at "100" and -0 +1 at "0"
LCD Size
8 mm
Dimensions
128 x 57 x 36 mm
Weight
235 grams (8.4 oz.)
Power Supply
(2) 3V CR-2450 Batteries
115V AC Adapter Included. 230V AC Adapter Optional
Warranty
1 year
* Note
per ASTM D 2240-05, Sect 9.3: It is accepted that durometer readings below 20 or above 90 are not considered reliable. It is suggested that readings in these ranges be omitted.
Conforms To
ASTM D-2240, DIN 53505, ISO 868, JIS K 7215 & ISO 7619. Asker C model conforms to JIS K-7312.
Mounting Thread
5/16-40
RS232 Output
9600 baud, no parity, 8 data bits, 1 stop bit (requires external power)
Conformance to International Standards
Model
ASTM D2240
DIN 53505
ISO 868
ISO 7619
DD-100-A
DD-100-B
DD-100-C
DD-100-D
DD-100-DO
DD-100-O
DD-100-OO
Item
Description
Price

Type A Digital Durometer for Soft rubber, plastics and elastomers.

$1,175.00

Type B Digital Durometer for Harder elastomers and plastics. Use above 93 A scale.

$1,260.00

Type C Digital Durometer for Medium hard elastomers and plastics.

$1,260.00

Type D Digital Durometer for Hard rubber and plastics

$1,175.00

Type DO Digital Durometer for Dense granular material and textile windings.

$1,260.00

Type O Digital Durometer for soft elastomers below 20 A scale

$1,260.00

Type OO Digital Durometer for Light foams, sponge rubber gels and animal tissue.

$1,260.00

Asker C Digital Durometer normally used on sneaker foam

$1,295.00

Accessories

Durometer Test Stand for AD and DD Series Durometers

$1,495.00

DD-DB1

Smart USB Data Transfer Cable, Sends data to any Windows program with press of a button - 600-11-KB-USB

$345.00

G13-0055

USB Data Transfer Cable from DD-100 or RX-DD Digital Durometers to a PC for transfer to a Wedge or Data Collection program purchased from a 3rd party

$100.00

Constant Load Weight for OO and OOO Durometers, Top Mount

$120.00

ISO-17025-DURO

ISO-17025 Calibration & Certification for Durometers

$250.00

Battery-Powered Portable Serial RS-232 Impact Printer supplied with AC-Adapter/Charger

$395.00

Portable Battery-Powered Printer

G03-0086

RS-232 Data Output Cable for MTG / DD-4 / DD-5 / DD-100

$245.00
1 Week Lead Time (Estimated)
2-3 Week Lead Time (Estimated)
Lead Time Varies, Please contact us for availability.