DTLB
Standard Model
DTLX
Data-Logging Model
3 Ranges Up To 10 Kg
For material diameters up to 8mm (5/16")
Requires Calibration with Customer Sample
DTLB and DTLX models feature large diameter rollers with wide roller spacing to minimize bending when measuring tensions on rigid/stiff materials such as certain canles, buffer tubes, central strength members, plastic tubes, etc.
DTLX Additional Features

Built-in datalogging with RS232 and 0-1 VDC Analog output
Memory capacity of 100 values plus min, max, peak, avg and standard deviation
Optional TensionView software available for batch download or continuous real-time trending
Large, V- or U-grooved guide rollers with 29.5 mm groove diameter, ball-bearing mounted
Large bending radius assures gentle handling of the material being measured
Special guides on the bracket assembly permit easy material acquisition
A precision strain-gauge sensing system accurately measures the force on the middle sensing roller.
High-Speed Measurement Captures Max, Min & Peak Tension Values
Requires Calibration on Customer Sample
Model
Range
Resolution
Meas. Head Width
Lever
DTLB-2000
DTLX-2000
200-2000 g
1 g
185 mm
Optional
DTLB-5000
DTLX-5000
400-5000 g
1 g
235 mm
Optional
DTLB-10K-L
DTLX-10K-L
1 - 10 Kg
0.01 Kg
235 mm
Included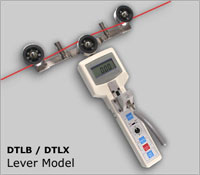 NOTE
Customer's sample required for calibration
NOTE DTLB-10K-L & DTLX-10K-L include lever in place of thumb piece. Lever is available as option on other ranges.

Roller Details
Image
Dimensions
Standard
Max Speed: 4000 (m/min)
Material: hardened steel (R10006)
Option - R1
Max Speed: 4000 (m/min)
Material: hardened steel (radius R5)
*Accuracy
± 0.5% Full Scale, ± 1 digit
(10 - 90% of Full Scale)
± 3.0% Full Scale, ± 1 digit
(Remaining portion of range)
Measuring Frequency
Measuring Frequency
Deflection of Sensing Roller
0.2 mm (maximum)
Overload Capacity
200% of Full Scale
Display
4-Digit LCD, 12 mm high
Display Update Rate
0.5, 1.0, 2.0 or 4.0 seconds, dip-switch selectable
Standard Memory
Last, maximum, minimum and peak
Calibration
Requires Calibration on Customer Sample
Field Calibration Adjustment
± 7 steps, 1.5% per step
Battery Type
Four (4) 1.5 V AA (included)
Battery Life
20 hours, continuous use
Auto Power Off
After 2 minutes of non-use
Roller Material
hardened steel
Maximum Speed
4000 m/min
Housing Material
Die-cast Aluminum
Weight
1.43 lbs. (650 g)
Operating Temperature
32 to 132 °F (0 to 45 °C)
Warranty
One year
AC Adapter (optional)
6 VDC @ 300 mA, for continuos in-line use
DTLX
Additional Specifications
Memory Capacity
100 values plus maximum, minimum, average, peak, standard deviation and memory location
Memory Operation
Continuous Mode: Automatic storage of each displayed value until memory is full
On-Demand Mode: Displayed value is stored when STORE key is pressed
Serial Output
RS-232C (4800 baud, 8 bit word length, no parity, 2 stop bits)
Analog Output
0-1 VDC, proportional to tension range
Thank You
Thank you for your quote request, we will contact you within 1-2 business days.
There was an error submiting the form. Please try again.