4 Tension Ranges 1-200g up to 20-2000g
Small measuring head with miniature rollers for applications with limited access space or where filaments run close together
For uses on textiles (2000 tex, max) or wires up to 0.5 mm diameter
NIST-Traceable Calibration Certification in optionally available
Small measuring head of 64mm x 36 mm for measurements with limited access space
Small, ball-bearing mounted, hardcoat anodized aluminum V-grooved rollers
Rollers suitable for material speeds up to 900 m/min (2000 m/min with "K" option)
Large, backlight LCD-display rotates in 90° steps for optimal viewing
3 different display modes:
– numeric
– numeric with bargraph
– numeric with graph (Time-Tension)
Automatic "Zero-Setting" in each measuring position
4 Material Calibration locations for customer calibrations
User-set Min and Max alarms with indication on LCD if reading is out of limits
High speed internal data sampling (8 kHz) for capture of accurate Min & Max Peaks
Storage of Min, Max and Last reading as well as Hi-Peak, Low-Peak, average and standard deviation
User-Selectable units of measurement: cN, daN, g, kg, N, lb
Rugged aluminium housing with rubberized handle provides a secure and comfortable grip
Setup parameters can be password protected so they are not accidentally changed by the user
Rechargeable Lithium Polymer Battery provides 40 hours of continuous operation
CE certified
Warranty: 1-Year
Made in Germany
| Model | Measuring Range | Resolution | Measuring Head Width* | Applications Textile Industry e. g. Yarn Count | SCHMIDT Calibration Material PA** |
| --- | --- | --- | --- | --- | --- |
| DTSE-200 | 1 – 200.0 cN | 0.1 cN | 36 mm | max. 200 tex | 0.12 mm |
| DTSE-500 | 1 – 500.0 cN | 0.1 cN | 36 mm | max. 500 tex | 0.20 mm |
| DTSE-1000 | 10 – 1000 cN | 1 cN | 36 mm | max. 1000 tex | 0.30 mm |
| DTSE-2000 | 20 – 2000 cN | 1 cN | 36 mm | max. 2000 tex | 0.50 mm |
* Width of bracket assembly
** Suitable for 95 % of applications
| Order-Code | Line Speed vmax. … m/min | Roller Material |
| --- | --- | --- |
| Standard | 900 | Hard-coated aluminium |
| Code K | 2000 | Hard-coated aluminium |
Option MH
for stationary use. With distance bolts with M5 female thread on the rear side.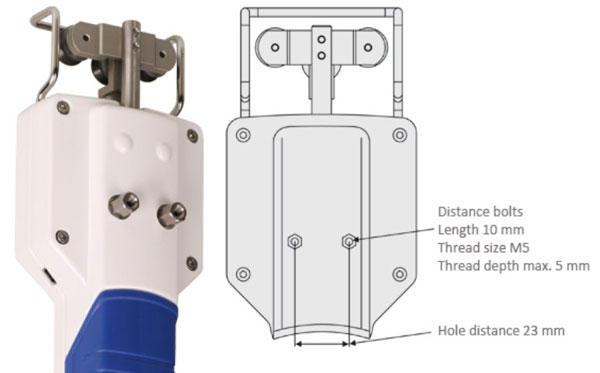 Calibration:
According to factory procedure
Accuracy:
For PA from 5 % up to 100 % FS*:
± 0.5 % FS* ± 1 digit
remaining tension range and other calibration materials:
±3 % full scale and ±1 digit
Memory for material curves:
1 for factory calibration plus 4 for customized calibrations
Measuring units:
Tension: cN, daN, g, kg, N, lb (user-selected)
Thickness : mm, inch (user-selected)
Overrange:
Approx. 10 % FS*, full scale, without accuracy guarantee
Overload protection:
100 % full scale
Measuring principle:
Strain gauge bridge
Signal processing:
Digital, 16 bit A/D converter
Measuring frequency:
Max. 1 kHz (1000 measurings/sec.), intern 8 kHz
Measuring roller deflection:
Max. 0.2 mm
Display:
Graphic LCD, Backlit (user-set: on/off/auto)
3 different displays:
Numeric,
Numeric with graph (time-tension)
X-Y-diagram
Display update rate:
Approx. 2 times per second
Memory:
MIN, MAX, PEAK, AVG and LAST
Damping:
User-adjustable electronic damping (averaging)
calculated by [X-Values OLD + Y-Values NEW] ÷ 9
Cal. Adjustment:
± 10 steps in 1 % increment
Thickness compensation:
Max. 2.5 mm (not available for all models)
Auto power off:
Approx. 3 minutes of non-use
Temperature coefficient:
Gain: less than ± 0.01 % FS* /°C
Zero point:
less than ± 0.03 % FS* /°C
Temperature range:
10 – 45 °C
Air humidity:
85 % RH, max.
Power supply:
Rechargeable Lithium Polymer Battery provides 40 hours of continuous operation, charging time approx. 3-1/2 hours includes AC-Adapter/Charger 100 – 240 V AC (with EU, USA, UK plug adapter)
Housing material:
Die-cast aluminium
Housing dimensions:
(see Dimensions)
Weight, net (gross):
approx. 780 g / 1460 g
Replacement Battery
E08711-X
Replacement Charger
USB-MINI-CHARGER
Thank You
Thank you for your quote request, we will contact you within 1-2 business days.
There was an error submiting the form. Please try again.