Measuring Range in Steel

0.0060 - 1.000 inches
0.150 - 25.40 mm
The TI-007 is a precision ultrasonic wall thickness gauge specifically suited to make extremely precise and high-resolution measurements on thin-walled metal and plastics. It is packaged in a sturdy extruded aluminum housing which is sealed for excellent environmental protection assuring trouble-free use even in the toughest field and production environments.
The gauges have a MEASURING RANGE from 0.0060 to 1.0000 inch, (0.15 to 25.40 mm). Using a single element delay tip transducer, the gauges will measure thin materials and automatically remove any coatings in ECHO-TO-ECHO MODE as well as automatically switch to interface echo mode when measuring thicker materials and plastics.
Resolution of 0.0001 inch (0.001 mm)
Large, backlit LCD display retains last reading
TI-007-GT model available with Graphite Tip for measuring plastics
Selectable units of inch or mm
RS-232 Data output of individual values for connection to data collection or quality control systems
CE Certified
Includes NIST-Traceable Calibration Certificate
IP 65 Rated
The TI-007 is supplied as a complete kit with the gauge, probe, 4 oz. bottle of coupling fluid, 2 AA batteries, NIST-Traceable Calibration Certificate and Operating Instruction Manual - all in a foam-fitted carrying case.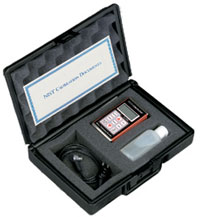 P/N
Description
Standard / Optional
Image
X-231-0000
1/4" x 3/8"
for all metals
(Short)
Standard
X-241-0000
1/4" x 1/2"
for all metals
(Long)
Standard
X-633-0000
1/4" x 3/8"
Graphite Tip
for thin plastics
(Graphite Short)
Standard on "-GT" models
Range in Steel
0.0060-1.0000" (0.15-25.40 mm)
Resolution
.0001" (0.001 mm)
Display
4½ - Digit, 0.5" Backlit LCD
Velocity Range
0.0492 to .3937 in/μs. 1250 to 10,000 meters/sec
Transducer
Single element with delay tip. 10 to 22 MHz frequency range.
Probe Wearface
PEEK (Polyethlethylketone)
Cable
4 ft. (1.2 m) waterproof cable with non-polarized, quick-disconnect LEMO connectors. Optional lengths up to 100 ft. (30 m)
Outputs
RS-232, single value when send key is pressed
Temp. Limits
Ambient: -20 to 120° F (-30 to 50° C)
Material: 0 to 200° F (-20 to 100° C)
Battery Type
Two AA batteries
Battery Life
150 hours
Weight
10 ounces
Size
2.5 x 4.5 x 1.25"
(64 x 114 x 32 mm)
Security Lock Mode
Hold down the DOWN ARROW Key as you power th gauge on. The "LOC" function with toggle on/off
Warranty
Gauge: 5 Years
Probes: 90 Days