The new Check-Line 3000PRO Series coating thickness gauge is a multifunctional fully menu driven gauge for fast, professional and precise coating thickness measurement for:
paint and electroplated coatings on iron and steel
paint and anodizing coatings on non-ferrous metals and on austenitic stainless steels
The user will select one or more probes best suited for their application to connect to the 3000PRO gauge as all the probes are interchangeable and their internal calibration is stored within a small microchip inside the probe connector housing. This provides for quick and easy hot-swapping from one probe to any other in seconds.
Eight (6) separate probes are offered for a wide variety of applications.
Automatic identification of the substrate
Highly wear-resistant measuring poles made of carbide metal
Special probes for unusual measurement tasks
Safe use even for special applications such as sand-blasted surfaces, small parts and curved surfaces
Scan mode for the quick recognition of coating thickness variations on large surfaces, including display of minimum and maximum readings
Display backlight for poor ambient lighting conditions
Online statistics with all statistical parameters
Extensive memory storage for recording of up to 10,000 data pints in up to 500 separate files "batches"
Alphanumerical file names can be used to identify each of the separate files "batches"
Infrared interface for wireless data transfer to printer and PC or via built-in RS-232
Includes FREE software for transferring data to a PC including histogram function
Optional high temperature footer for measuring on surfaces up to 150 °C/302 °F
Includes Traceable Calibration Certificate
1 Year Warranty
Probe


Type

Range

Standard Probes

Fe

0 – 60 mils (0 – 1500 µm)

NFe

0 – 60 mils (0 – 1500 µm)

Fe+NFe

0 – 60 mils (0 – 1500 µm)

Micro Probe for very thin coatings

Fe+NFe

0 – 8 mils (0 – 200 µm)

Probes for thick coatings

Fe

F: 0 – 140 mils (0 – 3500 µm)
N: 0 – 120 mils (0 – 3000 µm)

Fe+NFe

0 – 140 mils (0 – 3500 µm)

"F" Probes measure Coatings on Ferrous Metals
"N" Probes measure Coatings on Non-Ferrous Metals
"FN" Probes measure Coatings on both Ferrous & Non-Ferrous Metals
The 3000PRO is supplied as a complete that includes the gauge, probe, manufacturers calibration certificate, a ferrous and or non-errous zero plate(model dependant), 2 calibration foils, 2 AA batteries, soft pouch, instruction manual all in a rugged plastic carrying case.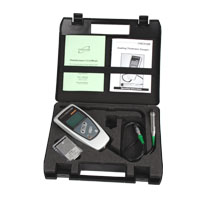 Minimum Radius for Convex Surfaces
0.08" (2 mm)
Minimum Radius for Concave Surfaces
0.2" (5 mm)
Minimum Headroom
4" (100 mm)
Minimum Sample Diameter
0.2" (5 mm)
Minimum Substrate Thickness - F
8 mils (0.2 mm)
Minimum Substrate Thickness - NFe
2 mils (50 um)
Standard probe & and FN/90° probe
Mils
0.00 - 9.99 mils
0.01 mils
10.00 - 24.98 mils
0.02 mils
25.00 - 49.95 mils
0.05 mils
50.0 - 99.9 mils
0.1 mils
Microns (µm)
0.0 - 99.9 µm
0.1 µm
100.0 - 249.8 µm
0.2 µm
250.0 - 499.5 µm
0.5 µm
500 - 999 µm
1 µm
1.000 - 1.998 mm
0.002 mm
Measuring principle:
Magnetic induction method (F-version); Eddy current method (N-version)
Measuring range:
3000PRO:
0 - 60.00 mils / 0 - 1500 µm
Tolerance:
± (0.7 µm/0.04 mils + 1% of reading)
Resolution:
Refer to RESOLUTION TABLE, above
Display:
4-digit display (digit height 10 mm/0.4") and 32 alphanumerical characters; switchable backlight
Minimum measurement area:
5 mm x 5mm/0.2" x 0.2"
Minimum curvature radius:
convex 2mm/0.08"; concave 5mm/0.2"
Minimum substrate thickness:
0.2mm/8 mils (for F-versions); 50 µm/2 mils (for N-versions)
Calibration methods:
- Factory calibration: no calibration required for standard applications
- Zeroing (1-point calibration): measurements on small geometries
- Zeroing and foil calibration (2-point calibration): increased measuring accuracy
- Two-foil calibrat
Limit values:
Selectable; optical and acoustic signal if limit value is exceeded
Scan mode:
For continuous measurements; for the quick recognition of coating thickness variations;
with permanent display of minimum and maximum reading
Statistics:
Single-value statistics: n, avarage x, s, kvar, min, max, cp, cpk from max. 10,000 readings
Block-value statistics: n, avarage x , avarage s, avarage kvar , min, max, cp, cpk; block size 3 to 100 readings
Data memory:
10,000 readings in max. 500 selectable files; alphanumerical file names; stored readings and statistical values individually recallable
Interfaces:
Infrared and serial RS232 interface
Language:
Operator prompting and documentation in German, English, French (optional other languages)
Operating temperature:
0 °C to 50 °C/32 °F to 122 °F (storage temperature - 20 °C to +60 °C/-4 °F to 140 °F)
Surface temperature:
5° F - 140° F / -15° C - 60° C (standard)
5° - 302° F / 15° - 150° C (w/3000-HTF)
5° - 572° F / 15° - 300° C (w/3000-HTF-300C)
Power supply:
2 x round cell (AA) 1.5 V up to 60 hours of operating time
Housing/keypad:
Protection class IP52 (protection against dust and dripping water)
Dimensions:
Gauge: 140 mm x 62 mm x 30mm/5.6" x 2.5" x 1.2" (HxWxD)
Probe: dia. 14 mm x 83mm/dia. 0.56" x 3.3"
Weight:
approx. 200 g/7 oz (gauge including batteries and probe)
Standards:
DIN EN ISO, ASTM, BS
Warranty
1 Year
Calibration Certificate
Included