2 Models
DCF-3000EZ-E
- Ferrous Only Model
DCFN-3000EZ-E
- Combination Ferrous & Non-Ferrous Model
Range Ferrous: 0-140 mils (0-3500um)
Non-Ferrous: 0-120 mils (0-3000um)
The 3000EZ-E Series Coating Thickness Gauge provides fast, non-destructive, accurate coating measurements on steel and non-ferrous metals. Designed to accommodate a wide range of production line, laboratory and field applications. Manufactured to international quality standards, the 3000EZ-E Series will provide years of trouble-free use.
The 3000EZ-E Series is designed for testing non-magnetic coatings such as varnish, paint, enamel, chrome, copper, zinc, etc. on steel and iron (magnetic induction method) and all electrically insulating coatings, such as varnish, paint, anodizing coatings on non-ferrous metals, also on stainless steel (eddy-current method).
External dual sensor probe with hard metal pole tip
Includes Traceable Calibration Certificate
Live statistics display for up to 99 readings
Keypad-selectable English or metric units.
2 Year Warranty
The 3000EZ-E Series is supplied as a complete kit with gauge, ferrous & non-ferrous zero plate(Combination model only), plastic test shim, 2 AAA batteries, soft carrying pouch, protective rubber shell, instruction manual and calibration certificate.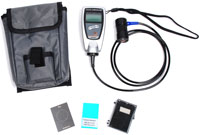 Minimum Radius for Convex Surfaces
0.2" (5 mm)
Minimum Radius for Concave Surfaces
2" (50mm)
Minimum Headroom
2" (50 mm)
Minimum Sample Diameter
0.4" (10 mm)
Minimum Substrate Thickness - F
20 mils (0.5 mm)
Minimum Substrate Thickness - NFe
2 mils (50 um)
Mils
0 - 99.9 mils
0.1 mils
100.0 - 140.0 mils
0.2 mils
Microns (µm)
0 - 999 µm
1 µm
1.000 - 2.498 mm
0.002 mm
2.500 - 3.500 mm
0.005 mm
Range
Ferrous: 0 - 140.00 mils (0 - 3500 µm)
Non-Ferrous: 0 - 120.00 mils (0 - 3000 µm)
Accuracy
±0.1 mils (3µm) or 3% of reading, whichever is greater
Resolution
Refer To Table Above
Display
back-lit, 4-digit alphanumeric, digit height
Minimum Measuring Area
0.5" x 0.5" (13 mm x 13 mm)
Minimum Curvature Radius
concave: 0.2" (5 mm)
Minimum Substrate Thickness
Ferrous: 20 mils / 0.5 mm
Non-Ferrous: 2 mils / 50 µm
Calibration
factory calibration, zero calibration
Statistics Program
Number of readings, mean value, standard deviation, maximum and minimum reading of max. 99 readings
Operating Temp.
32 °F to 122 °F / 0 °C to 50 °C
Surface Temp.
5 °F to 140 °F / -15 °C to 60 °C
Storage Temp.
-4 °F to 140 °F / -20 °C to +60 °C
Power
2 AAA 1.5V
Dimensions
4.3" x 2" x 1" (110 mm x 50 mm x 25 mm)
Weight
3.2 oz (90 g)
Protection Class
IP 52 (proof against dust and dripping water)
Standards
DIN, ISO, ASTM, BS
Warranty
2 Year
Calibration Certificate
Included