DT-105A
(LCD MODEL)
DT-107A
(LED MODEL)
DT-105A-12
(LCD MODEL with 12" Circumference Wheel)
DT-107A-12
(LED MODEL with 12" Circumference Wheel)
Accurately measure rotational and surface speed, as well as length. Built-in selector switch permits the user to display readings in a wide variety of engineering units. The DT-105/7A-12 includes a 12" circumference measuring wheel which is offered for safer and easier surface speed measurement by keeping the users hand farther from the moving surface and slowing down the rotational speed.
Built-in memory for last, maximum, minimum and 10 separate readings
Rugged cast aluminum housing
Includes Traceable calibration Certificate
LCD Version for use in sunlight and for longest battery life (DT-105A)
LED version for use in poorly lit or dark environments (DT-107A)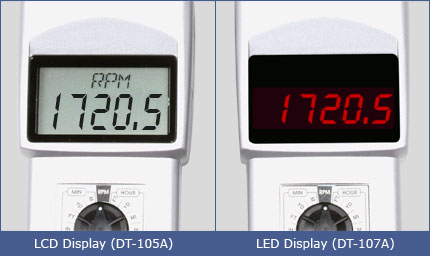 Optional 12" Wheel for Large Diameter Cables, Tapes & Bands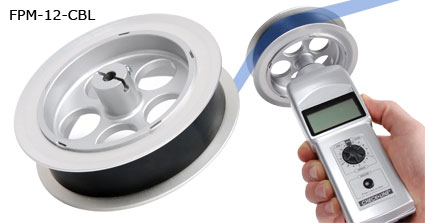 All models are supplied as a complete kit including 6" circumference surface speed wheel, two cone tip adapters, funnel tip adapter, shaft extension, two AA batteries and and an operating instruction manual - all supplied in a foam-fitted carrying case.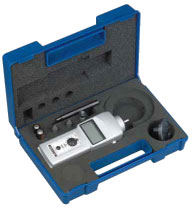 Display Range
0.10 to 25,000 rpm with floating decimal
Accuracy
0.10 to 999.99 rpm: ±0.06 rpm
1,000.0 to 9,999.9 rpm: ±0.6 rpm
10,000 to 25,000 rpm: ±0.006% rpm
Display
DT-105A: (LCD MODEL) 5 digit 0.47" (12mm) high
DT-107A: (LED MODEL) 5 digit 0.4" (10mm) high
Measurement Units
Per Second: Inches, Centimeters (optional, inquire)
Per Minute: Revolutions, Inches, Feet, Yards, Meters
Per Hour: Miles, Kilometers (optional, inquire)
Total: Revolutions, Inches, Feet, Yards, Centimeter, Meters
Memory System
13 readings are stored in memory and retained for 5 minutes
(last, max., min., and 10 measurements)
Over-Range Indicator
Flashing numerals
Detection
Update Time
1 second (typical)
Batteries
2 - 1.5 V AA
Battery Life
Approx. 65 hrs. (DT-105A)
Life: Approx. 40 hrs. (DT-107A)
Low Voltage Indicator
Flashing "LO BAT" display (DT-105A)
"B" display (DT-107A)
Operating Temp
32 to 113° F (0 to 45° C)
Weight
0.9 pounds (400 grams)
Dimensions
7.3" L x 2.4" W x 1.8" H
Warranty
2 years
Accessories Included
2 cone adapters, 1 funnel adapter, 3-1/2" extension shaft, 1 surface speed wheel (6" circumference), carrying case, operating instructions
Country of Origin
Taiwan